1. Barcelona VS Paris Saint Germain
Round Of 16 (2016/17 Season)
PSG 4-0 Barcelona (1st leg)
Barcelona 6-1 PSG (2nd leg)
Most of us might not have seen a comeback like this ever before in the Uefa Champions League until this day when Barcelona pulled an impossible comeback against the French giants Paris Saint Germain.
In the 1st Leg in Paris, Barcelona tasted a heavy defeat against PSG losing 4-0 to the french Giants. To pull a comeback in the second leg with no away goal seems to be quite an impossible task for any team.
Although PSG, on the other hand, was quite sure that they have booked their place in the Quarter-Finals.
In the 2nd leg at Camp Nou, Barcelona had to make sure they don't concede a goal because if they do they have to score 6 goals past PSG, and what happened after that 2nd leg is history
Barcelona had a brisk start in the 2nd leg, Luis Suarez putting them ahead in the 3rd minute of the match and Barcelona attacks after attacks putting the PSG defense under pressure led to an own goal by PSG left Back Kurzawa.
Barcelona now Leading 2-0 in the match at half-time. There was some different level of aggression and belief in Barcelona players that night to go through to the Quarter-Finals.
When the 2nd half Resumed Lionel Messi scored 3rd of the match for Barcelona, Barcelona was leading 3-0 in the match and it seemed like the comeback is possible now.
But PSG striker Edison Cavani Silenced the Crowd by Scoring an away goal for Barcelona, and the match had a different Scenario, Barcelona needs to put 3 more past PSG to go through, which seemed like an unbelievable task.
Neymar came to the rescue scoring a free-Kick in the 88th and converting a penalty in the 90th Minute of the match.
Barcelona was only 1 goal away from making a classic comeback in the Competition. The Tensions were high with only one minute remaining in the match
In the 95th Minute of stopping Time, Sergio Roberto Score the 6th goal for Barcelona from the chipped cross from Neymar in the Box and the Comeback was complete.
No one had ever thought this was possible and PSG would surrender a 4-0 lead against Barcelona. But this was no doubt one of the best Comebacks in the history of Uefa Champions League
2. Liverpool VS Barcelona
Semi-Finals (2018-19 Season)
Barcelona 3-0 Liverpool (1st Leg)
Liverpool 4-0 Barcelona (2nd leg)
Liverpool on of the favorite to win the Champions League that year and the best attacking team in Europe. Liverpool was struck hard in the 1st leg against Barcelona where they had a very disappointing result losing 3-0 to Barcelona in Camp Nou.
Barcelona were the favorites to win the tie after defeating Liverpool in the 1st leg and not conceding an away goal, but Liverpool and their fans had different plans for Barcelona when they Visited Anfield.
Anfield no doubt is a fortress and magical things happen on the nights like this where the Liverpool fans are fully behind their team in full voice in a semi-final Fixture like that, the atmosphere that night at Anfield was quite Electric.
Barcelona knew it was a gonna be a little tough to face Liverpool at Anfield, but they were quite confident that they would go through.
Liverpool are known to score quick goals in the opening minute of the match and that what they did Origi put Liverpool ahead in the 7th Minute of the match. Liverpool were leading 1-0 until half time.
In the 2nd half, Georginio Wijnaldum scored two goals in quick Succession for Liverpool in the 54th minute and 56th minute of the match.
Liverpool were leveled now on aggregate with Barcelona 3-3 each. Barcelona were looking nervous against Liverpool's high pressing and the Anfield atmosphere.
In the 79th Minute came to a match-defining moment where Divock Origi put the ball in the back of the net by a smart corner by Alexander-Trent-Arnold. Barcelona Defence went to sleep and Liverpool Scored a 4th goal to Complete the Comeback and making it to the finals and winning the Uefa Champions League.
3. Juventus VS Atletico Madrid
Round of 16 (2018-19 Season)
Atletico Madrid 2-0 Juventus (1st Leg)
Juventus 3-0 Atletico Madrid (2nd Leg)
This tie was always gonna be a tight and exciting one and it did prove to be in the end. Cristiano Ronaldo was facing one of his Rivals Atletico and he did have a good record against them in the past.
In the 1st leg in Madrid Juventus Performance was quite disappointing with Atletico Madrid easily getting the better of them and with the goals from José Giménez (78′) and Diego Godín (83′) give Atletico Madrid a win against Juventus and a comfortable 2-0 lead to take to Turin.
Diego Simeone Pre-match :-
It's difficult to get ready to face a player like Cristiano Ronaldo. He's a goal animal," Simeone said in his pre-match press conference.
"He has awesome figures and he makes sure everyone knows what's happening around the box.
"It's difficult to control that. He has great skills with his head, with his shooting, making passes, running into space – what can I say about his skill? We've already suffered against him, sometimes we've won and sometimes we've lost.
"It's clear he's a goal animal."
Turning a 2-0 deficit was difficult but it's not impossible as we have seen many times in the history of the Uefa Champions League. Juventus had to put a special show to get through this and indeed they did.
Cristiano Ronaldo put a one-man show against Atletico Madrid Scoring a Hatrick at this stage of the game when your team needs you the most.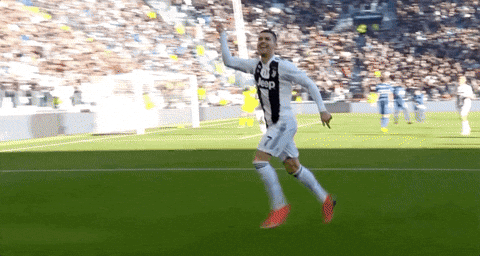 Diego Simeone Post Match:-
"Cristiano is one of the best in the world and it's normal that he can appear as he appeared," Simeone said.
"I don't think there was a lack of character or commitment," Simeone added. "They outplayed us. When I see a team that outplays us I have to congratulate them. We tried to have more prominence.
Ronaldo scored in the (27′, 49′, 86′ PEN) of the match pulling a magical Comeback for Juventus all alone, and once again Cristiano Ronaldo Came back to haunt his old rivals Atletico Madrid.
Catch all the Latest football updates at thefifaclub