We all have witnessed some truly remarkable goals in the last decade in the world of football.
There were some outstanding team goals as well as individual stunners. Let's refresh our memories with the top 7 Goals of the decade.
7. Jack Wilshere Vs Norwich
2013-14 Season
If anyone has not watched this goal by arsenal scored by Jack Wilshere in the 2013-14 season. Then they have surely missed out on one of the best team goals ever seen in the Premier League history.
Arsenal Played some incredible football in that match. In the 18th minute of the match, Jack Wilshere took the ball from the halfway line running toward the Norwich defense and then what happened after that was pure brilliance and magic from Arsenal.
Jack Wilshere, Santi Cazorla, and Oliver Giroud all combining and Playing a tiki-taka football just outside the Norwich Box,
Final through ball saw Wilshere cutting Past 5 Norwich Defenders and Wilshere was one on one with the keeper, Putting the ball in the back of the nets.
Norwich defenders were left open and stunned as they had no answer to Arsenal Tiki-Taka flawless football.
Arsenal won the match 4-1 that day.
Mesut Ozil on that goal :-
"I've got to praise the three players involved for the first goal. It was real 'tiki-taka' – almost like they were playing PlayStation! It was an unbelievable goal."
6. Zlatan Ibrahimovic Vs England
2012 Inter. Friendly
No Doubt Zlatan has scored some great Individual goals in his career, but this has to be one of the best goals he has ever scored.
Sweden defeated England 4-2 that day. All the goals for Sweden were scored by Zlatan, But the 4th goal was something Special.
Zlatan scored an amazing 30 yards bicycle kick in the back of the nets after Joe hart made an error and couldn't clear the ball and it landed straight to Zlatan and he made full use of it.
That goal was an absolute stunner from Ibrahimovic. It was a perfect performance from Sweden as well as their star man Zlatan Ibrahimovic on that night.
5. Messi Vs Bayern Munich
2015-16 (Uefa Champions League)
One of the best Players on the Planet Lionel Messi has scored so many goals in his Carrier, But this goal was viral all over the world that year.
Barcelona was playing Bayer Munich at home in the 2015-16 Champions League Season, In that Match Messi made World-class defender like Jerome Boateng look like an average defender.
In the 77th minute, Messi took the possession of the ball and humiliated Bayern Munich defender, Jerome Boateng, with a Pure dribbling Magic of Messi and in the end Chipping the ball through goalkeeper Manuel Never and scoring the goal.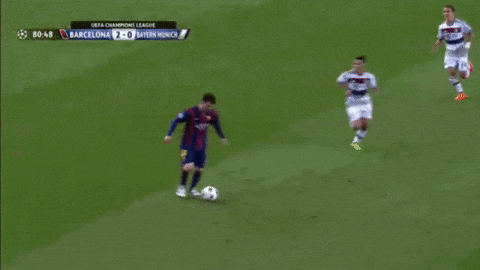 After that night the Memes were flooded all over the internet how Messi showed his dribbling magic and Jerome Boateng was left helpless.
4. Gareth Bale Vs Liverpool
2018-19 (Uefa Champions League Final)
Real Madrid were facing Liverpool in the 2018-19 Uefa Champions League Final in Kyiv. This was Real Madrid 3rd final in the row, while Liverpool were playing their 1st since 2005-06 final win in Istanbul.
Real Madrid were leading the match 1-0, then Gareth Bale was brought on Madrid. In few minutes in he scored a wonder goal that won Real Madrid their 12th Champions League Title.
Although Gareth Bale is a player who is heavily Criticized in Madrid, But after that goal all of that change.
When Bale Scored an absolute stunnerBicycle kick Just outside the Liverpool box from a cross by Marcelo. It made a perfect Connection and ball landed in the top corner of the goal.
After that Bale scored again from a long-range shot which landed in the back of the net due to error by Liverpool goalkeeper Karius.
It was a memorable Performance By Gareth Bale.
3. Robin Van Persie Vs Spain
2014 World Cup (Group Stage)
The Finalists of the 2010 World Cup were meeting again in the 2014 World Cup group stage.
Netherland VS Spain was always going to be an exciting fixture with lots of goals expected.
The expectation did become a reality in that match when Netherland hammered Spain 5-1 to win the match, But there was also something special that was witnessed by the whole world that day.
Dutch striker Robin Van Persie scored an unbelievable flying header past Spain goalkeeper Iker Casillas.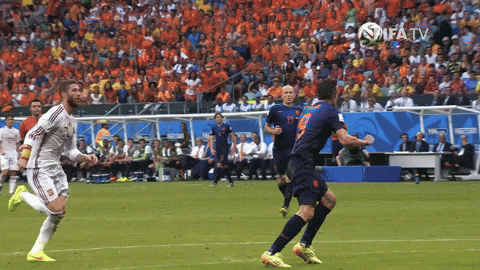 This type of goal was not ever witnessed in the history of football. Such a perfect header form Robin saw the world giving him a new name "The Flying Dutchman"
2. Wayne Rooney Vs Manchester City
2010-11 Premier League Season
Manchester Derby has always produced iconic moments whether is Michael Owen's last-minute winner or Sergio Aguero's last kick to win the title.
One of the iconic moments in the Manchester Derby was produced by Wayne Rooney in the 2010-11 Season.
When Wayne Rooney scored an overhead kick from a deflected Nani cross and the connection was so sweet that even Joe Hart didn't move as he saw the ball go into the top corner.
Old Trafford was erupting that day as soon as Rooney produced such a magical moment in the Derby.
According to Rooney:-
The deflection [from Nani's cross] actually helped me, because it slowed the ball down and gave me time to adjust myself, turn my body.
"To be honest, I just thought I'll go for it. I wasn't having the best game, and thankfully it's gone into the top corner."
Asked if it was his most important goal, Rooney said: "I think so. We went on to win the league that year and it was a big game for us."
Manchester United manager Sir Alex Ferguson called Wayne Rooney's winner perhaps the best goal he had seen in his 25 years at Old Trafford.
"It was stunning," he said. "[Nani's tally] was an unbelievable goal, but nobody in their right sense will even talk about it. All the talk will be about that winning goal—unbelievable.
"We've had some fantastic goals here but in terms of execution, you'll never see that."
1. Cristiano Ronaldo Vs Juventus
2017-18 (Uefa Champions League)
Ronaldo Described this goal as the best goal he has ever scored.
Real Madrid was playing against Juventus in Turin (Italy), in the Champions League Quarter-Finals (2017-18).
Real were already winning the game 1-0 through Ronaldo. In the 64th minute, Ronaldo did something spectacular and outrageous scoring a Bicycle kick leaving Juventus defenders stunned.
Not only Ronaldo and Real Madrid Fans loved that goal but the whole Juventus fans applauded Ronaldo after scoring that goal.
They also knew that have witnessed top-class football from one of the best players on the planet. This is something that is seen very rarely in football when the opponents to applaud you.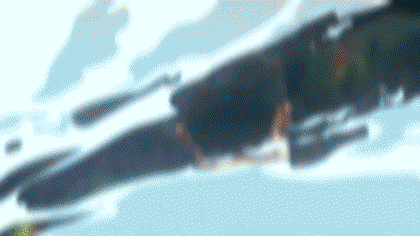 If this is the case that means you have done something extraordinary which Cristiano Ronaldo did that day.
Ronaldo on his goal :-
Obviously people are talking about the second goal, it was amazing, probably the best of my career," Ronaldo said after the game.
"It was spectacular. I jumped very high and it's a goal that will live long in the memory.
"I've been looking to do it for a while, but it depends on the circumstances of the game. It just came to me to give it a go, you always have to try it. I tried it today and it came off".
On Standing Ovation he recieved :-
"It was one of the most poignant moments of the night. To receive applause from a stadium like this, which has been graced by great players, is a unique experience.
"When I was a kid, I liked Juventus and the fact that their fans have clapped me will stay with me."